87.9 FM – The Sled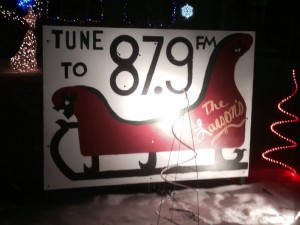 24×7 Holiday Music at Your Holiday Illumination Expert:
87.9FM – The Sled!
We have our own radio station to compliment our display! Our music is broadcast through a low-power transmitter. While the display is operating, viewers can hear a program of music that is synchronized to our lights by tuning their car radio to FM 87.9.
When the display is not running, we offer continuous holiday music during the season on The Sled.
You can learn more about the music we play here.
Legal Disclaimer
It is our intent to operate this non-licensed transmitter in compliance with the FCC Rules part 15. We chose our frequency based on FCC listings of licensed broadcasters in a 50 mile radius from our home, Best suitable frequency found to have the lowest possibility for interferences (http://radio-locator.com/cgi-bin/vacant), and by actual tests with several sensitive FM receivers. If you believe you are experiencing interference due to our transmitter or have other comments, please send an email to [email protected] and we will work with you to address the problem. All interference complaints will be taken seriously as we do NOT intend to violate the rights of any licensed broadcaster or their listeners.